Wondering how to get rid of musty smells? I get that – I totally do! There's nothing worse than minding your own business, sitting on your couch, and have the wafting smell of "old" or "damp" creep into the inside of your nose. While it might feel as though you're in quicksand about how to get rid of musty smells, there are a few easy and actionable things that you can do right now to eliminate the odor and smell. Because why sit in that stench and annoying aroma when you can easily get rid of it within a few short moments of time?!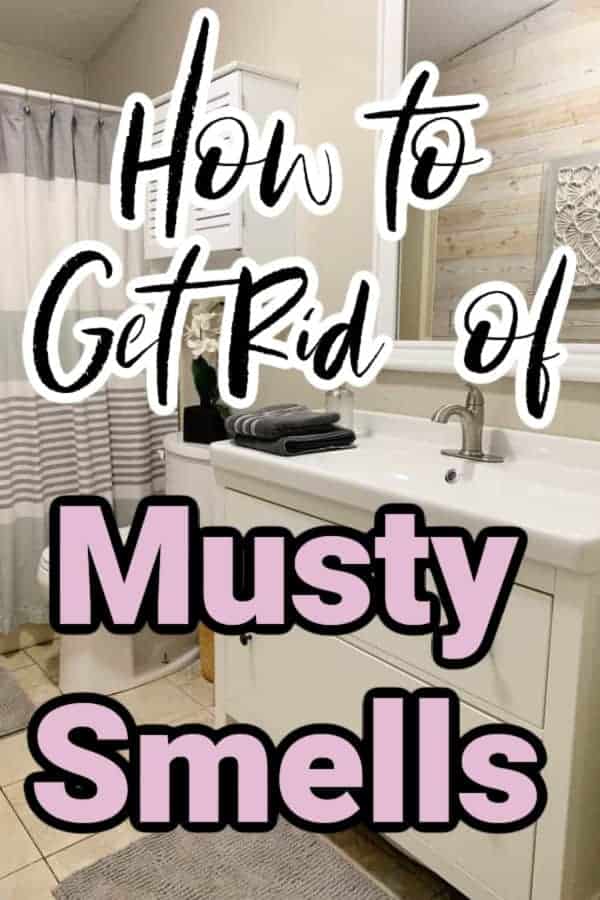 How to get rid of musty smells
You know the smell I'm talking about, right? That smell that hits your nose the second you walk into a room and it's the perfect combination of old mothballs meets wet dog – and you have no idea where it's coming from or what in the world could be making that smell, either.
As frustrating as horrible smells can be, they don't have to become your norm. If you're ready to learn how to get rid of stinky smells in your house, these easy tips can help.
What does a musty smell smell like?
Before diving in on ways to solve and get rid of the musty smell, it's important to know what that actually smells like. A lot of people compare the smell to dirty wet socks or even the scent of rotting wood.
It will actually smell differently to each person BUT it's a smell that will easily be identified once it's noticed.
Will a dehumidifier get rid of musty smell?
There's a common misconception that a dehumidifier will get rid of musty smells, but they actually just help to reduce it. You'll also have to be running it all the time or that smell will quickly return.
What absorbs bad smells in the Room?
While you're trying to figure out how to stop the bad smells in your house, there are a few common household items that you can use to help remove or eliminate that musty smell.
Air fresheners and essential oils are great for leaving out and masking the smell but after a while, you might be wanting more of a natural approach or a whole different scent.
If you're able to leave a bowl out of any of the following, there's a strong probably that it will absorb the odors in the room and get rid of some of that unpleasant smell.
The common household items to try are:
As long as you can leave these out safely in a bowl away from pets and kids, you should notice a reduction in the musty smell that gyou were once smelling so strongly before. 
How do I get rid of the musty smell in kitchen cupboards?
Kitchen cabinets and other storage areas in the home are notorious for starting to smell musty! All you'd need to do is set a bowl of baking soda and/or a bowl of vinegar into that area that you're trying to get rid of the smell. Let these absorb the smells for a couple of days to see if you notice a difference.
How do I stop my closet from smelling musty?
Once you start to smell that musty smell around the house, there's a good chance that you're going to start smelling it all over the place. When this happens, stay calm.
As long as you're ready to approach this with an open mindset and a can-do attitude, you can easily take proactive steps to getting rid of that musty smell.
To try and remove the odor from the closet, you can try a few different things.
Using wooden hangers is a great idea and gives a nice, smell to your closet as well. (and cedar hangers would be great as they'd actually put off a pleasant scent in the closet!)
You can also wipe out and clean your closet walls and floors, too. This is a simple way to give your closet a facelift without harming it in the process.
It's better to do this and be proactive rather than wait to where all. your clothes started to smell musty as well just because they were hanging in the closet.
More Tips for Dealing with Musty Rooms
One of the biggest things to keep in mind during all of this is that you can easily let in fresh air to help circulate the air and help to get rid of the scent. Fresh air can be a great way to let in the beauty of nature so that you smell that more than the musty smell inside your home.
If you like trying new things, you can try and use an odor eliminator as well. Just know that you can go as big as you want or as little as you want when it comes to these types of purchases.
Make certain that when you're trying to figure out where the musty smells are coming from that you're looking at all the possibilities in your space. Rugs and fabric chairs or couches are notorious for getting spills from the kids or slobber and wet paws from the dogs that it's no wonder that the smell didn't start sooner!
Final Thoughts on Removing Musty Smells From Your Home
If you're in a situation where you're starting to notice a new musty smell that you've never smelled before, there's a good chance that you have a leak or are leaking water somewhere. This doesn't mean that you have a leak for sure but if it's a smell that you're just now starting to notice, this probably means that your house is going through something new or having an issue that you can hopefully correct early.
There are natural ways that were mentioned above to remove odors and smells but it's also important to remember that a musty smell could be a more serious problem, too. If you're worried about serious issues surrounding that scent, make certain that you check with professionals to find out if you're having a minor issue or a major one instead.
More posts you may like: