This shop has been compensated by Collective Bias, Inc. and its advertiser. Product was provided by the client for review; however, all opinions are mine alone. #WorldsSmartestToothbrush #CollectiveBias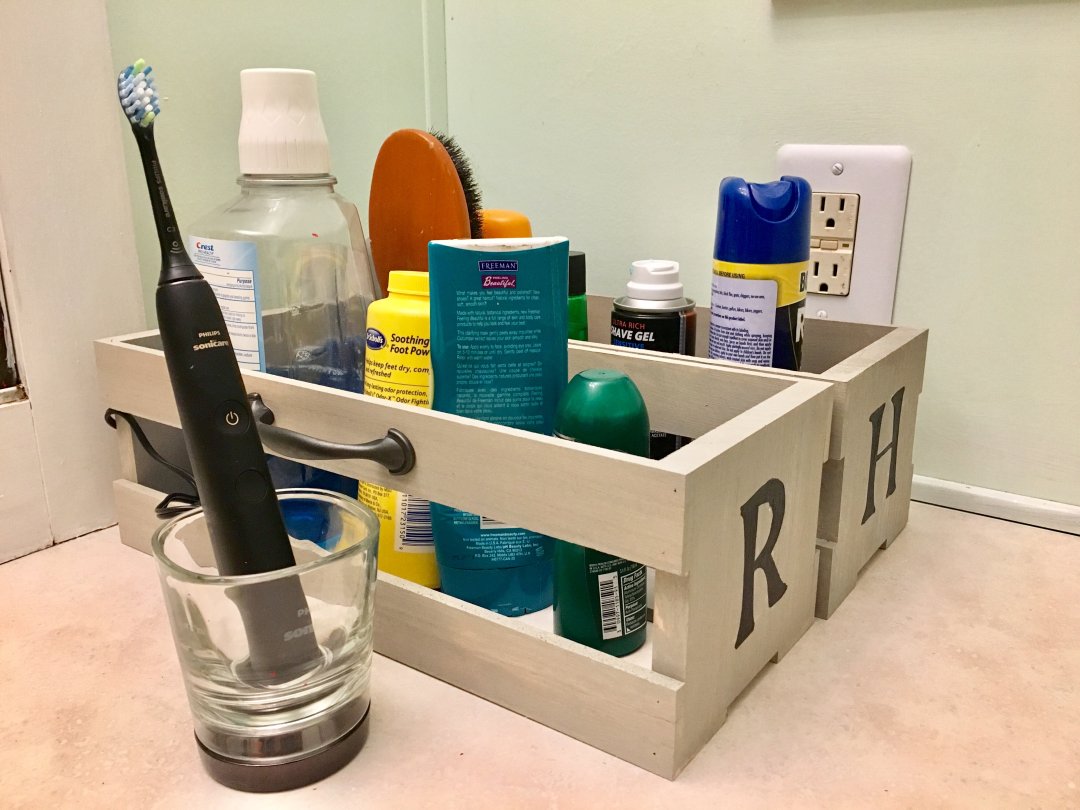 Click on the toothbrush in the photo above to purchase it.
Men's Grooming Caddy DIY Tutorial
Last year I had the opportunity to try out the Phillips Sonicare Flexcare Connected toothbrush. I have been using it for over a year now and I absolutely love it. My husband, Rob has always been jealous of my fancy toothbrush and this year I was able to gift him the even more advanced Philips® Sonicare DiamondClean Smart Electric Toothbrush.
This is Phillips best ever toothbrush for complete oral care. Now you can care for your whole mouth, teeth, gums and tongue. It has four high-performance brush heads and Smart Sensor technology for personalized feedback and coaching. It gives you superior results and 100% confidence in your oral care. Get healthier gums in 2 weeks* (*vs a manual toothbrush)Phillips is the No 1 Dental Professional recommended brand.
Rob loves everything "tech" related. He has our home theater set up expertly. Music and computers are his biggest hobby and he loves using fun gadgets in every aspect of his life. I knew a tech savvy guy like Rob would love the new Phillips Sonicare DiamondClean Smart Electric Toothbrush.
This toothbrush is available to purchase at Best Buy.
When most people think about bathroom clutter they think about the women in the family and all of their hair and makeup tools sprawled out over the counter.
I definitely create my share of clutter in our bathroom but I'm not the only one making a mess.Those of you with a man in the house will know they can make just as much of a mess as the girls.
My husband has to shave every single morning before he work. He also does his regular grooming routine like brushing his teeth and hair. Sometimes he uses hair gel. If you think about all the accessories and products he needs, it adds up to a lot of extra stuff on the counter.
In order to make things a little more neat and organized I created this men's grooming caddy for the bathroom counter to hold all of Rob's grooming and hygiene products.
The neat thing about this caddy is that it's actually two crates stuck together with velcro. They can be stuck side by side, placed one on top of another or placed separately in different parts of the bathroom depending on what kind of storage you need.
Men's Grooming Caddy Tutorial
Supplies:
Two small wooden crates
Wood stain and sponge brush
Velcro
Super glue or glue gun
Black paint
Pencil
Permanent marker
Two cabinet handles
Paper
Chalk
Directions:
Start by painting the two crates with the wood stain and a sponge paint brush. Leave them to dry completely overnight.
Next glue velcro pieces on one side of each of the crates so that they can be stuck together.
Either glue or screw the handles onto one side of both of the crates.
To make the monogram with Rob's initials I printed out an "R" and "H" in the size and font I wanted onto regular computer paper. I cut the letters out and rubbed chalk on the back. Then I taped them to the crates and traced the letters with a pen. The pressure from the pen will press the chalk onto the crates making a chalk outline of the letters. Simply trace over the chalk with black permanent marker and then fill it in with black craft paint and it will create a perfect monogram.
How do you keep your bathroom organized? Share your tips in the comments and make sure you check out the  Philips® Sonicare DiamondClean Smart Electric Toothbrush on your next trip to Best Buy.