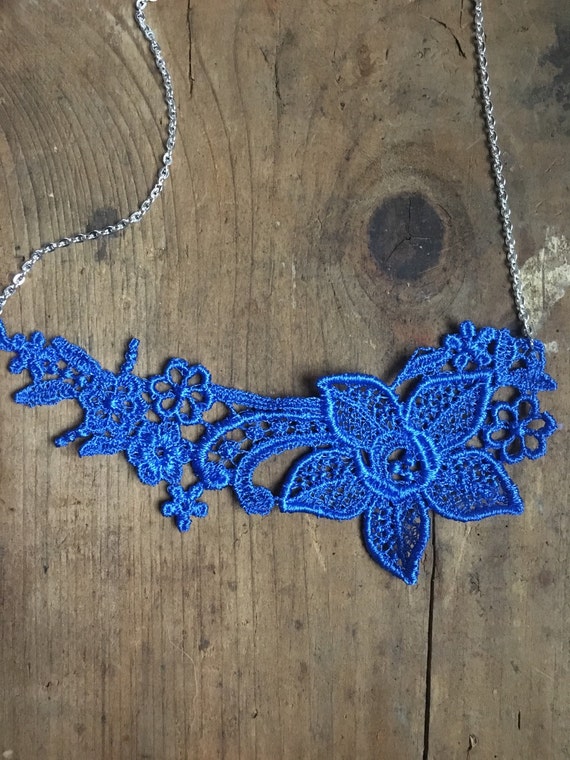 Making Lace Jewelry
I've been making lace jewelry for a few years now and selling it my jewelry shop. Lace is one of my favorite materials to work with. My lace jewelry pieces have always been popular with brides and I get asked regularly to make custom pieces for bridal parties. One pair of my earrings were even featured in a German magazine a few years ago. There are several ways that I work with lace and today I am going to share some of my favorite methods.
You may also like: How to Make a Polymer Clay Rose Ring
What kind of lace should you use?
I use venice lace appliques that I either buy at the fabric store or on Etsy. The number one question I get asked about my lace jewelry is if I use starch to stiffen it. The answer is no. The lace actually holds it's shape quite well and if it wrinkles, I can gently iron it and it will be nice and flat again.
Deconstructing Lace
For most of my lace pieces I start with a lace applique and cut it apart. I use very sharp, small scissors (cuticle scissors work very well) and I cut different parts of the lace off. Then I can use them as-is for some of my work or reconstruct them together with other pieces. Some lace looks nice as is just by attaching a chain with jump rings and for other pieces I will add beads or pearls.
You may also like: DIY Rice Therapy Bags
Reconstructing Lace
Sometimes, I want to attach two or more pieces of lace together. The best way I have found to do this is to sew them together. I sew everything by hand with a needle and thread. Find thread that matches the color of your lace and carefully stitch it together for a totally custom design.
You May also Like a Belt From an Old Tie
Dyeing Lace
The great thing about venice lace is that it can be dyed. I have had success using Rit dye and Tulip fabric dye. You can get fabric dye kits at the craft store and dye your white or ivory lace almost any color of the rainbow. The method is pretty simple, mix hot water with the dye, apply it to your lace, wait a couple of hours and rinse it out. Follow the directions on the packaging for best results.
You may also like: How to Make Fused Glass Jewelry
Have you tried making lace jewelry? Tell me about your results and check out the rest of my collection here.